Rutherford Centennial Conference: 8th-12th August 2011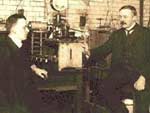 Rutherford and Geiger.
We are pleased to announce that we will be holding a large international conference on nuclear physics at the University of Manchester in Aug 2011 to celebrate the centenary of the publication of his paper describing the discovery of the atomic nucleus. The conference will mark one hundred years of the atomic nucleus by addressing the wide range of current topics characterising modern nuclear physics, including nuclear structure and astrophysics, hadron structure and spectroscopy, weak interactions and relativistic heavy-ion collisions.
Further details can be found on the conference website at http://rutherford.iop.org/
We look forward to seeing you in Manchester,
With best wishes
The UK Organising Committee
Andrei Andreyev (UWS) Alison Bruce (Brighton)
Alick Deacon (Manchester)
Sean Freeman (Manchester)
Dave Jenkins (York)
Dave Joss (Liverpool)
Douglas MacGregor (Glasgow)
Paddy Regan (Surrey)
John Simpson (Daresbury)
Dawn Stewart (IoP)
Garry Tungate (Birmingham)
Bob Wadsworth (York)
Dan Watts (Edinburgh)