Welcome to the Nuclear Physics research group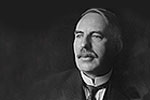 Ernest Rutherford (1871-1937)
The University of Manchester has a long and well established history in nuclear-physics research, starting with the pioneering experiments of Ernest Rutherford in the early years of the 20th Century. It was at Manchester that Rutherford demonstrated the existence of the atomic nucleus using alpha-particle scattering experiments.
Presently, the nuclear physics research group at the University of Manchester consists of five academic staff with a variety of research interests, such as:
the study of radioactive isotopes using laser spectroscopy (Professor Jonathan Billowes and Dr Paul Campbell)
spectroscopy of neutron-rich nuclei and the study of transfer reactions (Professor Sean Freeman)
spectroscopy and electromagnetic properties of fission fragments (Dr Gavin Smith)
measurement of the lifetimes of unbound and isomeric nuclear states and improving SPECT images and dosimetry for cancer therapy The Christie hospital (Dr Dave Cullen)
applied nuclear physics (Professor Jonathan Billowes and Dr Gavin Smith).
There are also a number of nuclear theorists in the Manchester Theoretical Physics Group.
Current research
Most of our current research is carried out by performing experiments at major international facilities, such as at Argonne National Laboratory (USA), Jyvaskyla (Finland), GANIL (France), GSI (Germany), and the Culham Science Centre (UK).
A major project with which the Manchester group is involved is the construction and use of the CLARA detector array and PRISMA magnetic spectrometer at Legnaro National Laboratory in Italy, in order to study the structure of "exotic" nuclei. A photograph of PRISMA and CLARA is shown to the left.
The group is also the world leader in fission-fragment spectroscopy and is currently involved in the construction of the STEFF spectrometer which will be used to search for gamma decays from exotic fission fragments.
In addition, the group is involved with the Gammasphere, Exogam, and GREAT projects, and also leads programs of laser-spectroscopy research at Jyvaskyla and ISOLDE at CERN.
Contact us
Head of the Nuclear Physics Group: Professor Jonathan Billowes
Tel: 0161 275 4105
Fax: 0161 275 5509
Email:
---
Post-graduate admissions:
Dr Kieran Flanagan
---
Mail: Nuclear Physics Group, Schuster Laboratory, Brunswick Street, University of Manchester, MANCHESTER, M13 9PL, UK.
---
Please report any problems or errors with this website to